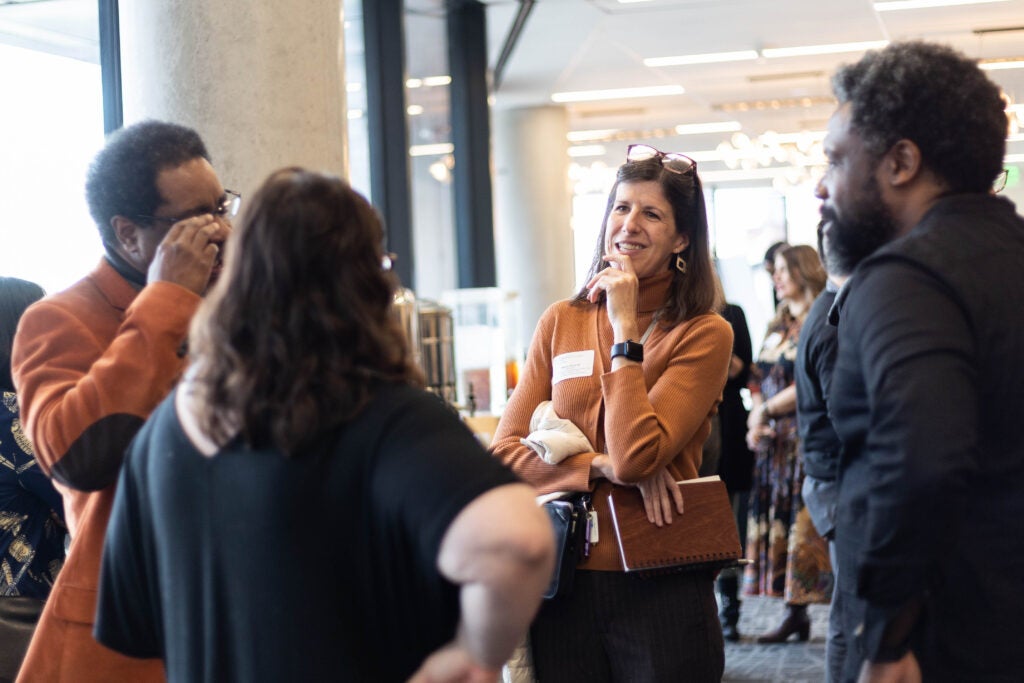 Two leadership academies will offer personalized mentorship and expert-led workshops to tenured, tenure-track and professional-track faculty.
---
Since the establishment of the faculty development portfolio, the Office of the Executive Vice President and Provost has created six new programs and initiatives to support professional development for tenured, tenure-track and professional-track faculty.
"In particular, faculty expressed a desire for enhanced leadership development opportunities, and we have made this request a priority when creating new programs," says Professor and Vice Provost for Faculty Development Alison Preston, who holds joint faculty appointments in Neuroscience and Psychology with a courtesy appointment in Psychiatry.
Many peer academic institutions have an 'one size fits all' program that must meet the needs of both aspiring and current leaders," she explains. "Our approach has been to create a slate of leadership programs for faculty at different stages of leadership development.
Two of those programs — Aspiring Leaders Academy and Research Leaders Academy — begin this fall and will introduce faculty to key leadership principles and skills. The Aspiring Leaders Academy will also provide hands-on shadowing opportunities for participants, a facet of the program that is not common in other peer university leadership development programs.
Leadership Is Not One-Size-Fits-All
Recognizing that academic leadership is multifaceted has been central to Preston's approach to designing programs that are tailored to leadership development at different career stages and the needs of different leadership roles.
"Many peer academic institutions have a 'one size fits all' program that must meet the needs of both aspiring and current leaders," she explains. "Our approach has been to create a slate of leadership programs for faculty at different stages of leadership development; for instance, those who are emerging leaders and those who are current or long-time leaders."
So, when Preston became UT's inaugural Vice Provost of Faculty Development in 2021, she knew she wanted to create a comprehensive portfolio of programs, workshops, mentorships and peer groups that would provide coaching and community to faculty at all stages and across all roles and functions.
When designing these programs, she and Kathryn Appenzeller, director for Faculty Development and Assistant Professor of Instruction in the Department of Curriculum and Instruction, reached out to peer institutions to learn what worked (and didn't) elsewhere. "We talked to administrators at more than 15 institutions and organizations," Preston says. "We discovered that offering a combination pedagogical-practical approach was unique, so that became the premise of the Aspiring Leaders Academy."
They also noted that many leadership programs focused on training for department chair or dean roles while overlooking the unique development needs of faculty who lead interdisciplinary academic initiatives or research centers. "We were inspired to partner with the Office of the Vice President for Research, Scholarship and Creative Endeavors to launch the Research Leaders Academy to develop skills unique to these types of leadership roles."
The Faculty Development team is also developing augmented training for those already in leadership roles. "Even when faculty accept chair and deanship positions," she adds, "they may face challenges because our academic training does not necessarily equip us with the specific leadership, management and planning skills needed to be immediately successful as a chair or dean. All faculty leaders, no matter where we are on our career path, benefit from support, training and mentorship."
Aspiring Leaders Academy
Open to UT faculty from any discipline, the Aspiring Leaders Academy will teach core leadership skills — from balancing dual roles as a faculty member and an administrator to understanding how to effect organizational change — over a period of 12 months. Participants will meet bimonthly during Fall '23 to learn best leadership practices from both internal and external experts. In Spring '24, participants will be individually matched with a campus leader to work together on a new or existing initiative.
"The shadowing element of our program is key, and it's something I'm especially excited about," says Preston. "By partnering on a real project, faculty get to take the skills they've just learned and put them to use while benefiting from personalized mentorship."
According to Professor Art Markman and Professor Bob Duke, Two Guys on Your Head podcast co-hosts, "So much of coaching is showing people where to point their attention."
In their latest episode on the Psychology of Coaching, Markman and Duke explain that, more than anything, coaches are good noticers. They are excellent at seeing what small adjustments people can make to their own practice that will substantially improve performance.
"They also help teach that perceptual skill of noticing to the person being coached so that they ultimately begin to recognize [on their own] when they're doing a good job and when they're not," Markman adds.And it's the eight months of one-on-one coaching and feedback that differentiates the Aspiring Leaders Academy from faculty programs elsewhere.
Participants will also have the benefit of an established peer support group. Participants will continue to meet biweekly during Spring '24 to compare notes, share successes and commiserate over failures during their shadowing experience. "We also plan to offer additional training tailored to the specific needs of faculty leadership projects throughout that semester. Participants will be active contributors to curriculum planning during the latter part of the Aspiring Leaders Academy," says Preston.
Research Leaders Academy
Similarly, the Research Leaders Academy is intended for mid-career faculty who are aspiring to or already leading large, interdisciplinary research projects or centers.
"Our faculty have been very successful at creating externally funded research groups and centers," Preston emphasizes. "However, to date, those faculty have had to learn the leadership skills necessary to launch and sustain a center-scale research initiative on the fly. Our goal is to create a more formal program of strategic counsel that prepares individuals with research leadership aspirations to initiate larger-scale initiatives."
Jennifer Lyon Gardner, UT's Deputy Vice President for Research, Scholarship and Creative Endeavors, agrees. "Making the leap from sustaining one's individual research projects to sustaining an institute-level research program at UT, or even landing a very large-scale federal center grant, can be arduous. My Research Development team works with investigators across campus to develop center-scale grant proposals and seek approval to establish new UT centers and institutes, and we often observe these new center leaders struggling with the same set of challenges." These challenges can include rightsizing the vision for the center's research; understanding how money flows within the university; learning to recruit and delegate effectively to staff; and making well-reasoned requests for resources from deans and leadership.
The Research Leaders Academy will cover these topics and more in a series of interactive workshops featuring internal and external experts. Participants will also meet with leadership from the Provost's office and Office of the Vice President for Research, Scholarship and Creative Endeavors to learn best practices for securing grant funding for large, cross-campus research initiatives and applying those to build and sustain successful teams.
Next Steps
All faculty will receive an email with detailed information in May and are encouraged to reach out to Kathryn Appenzeller with questions.