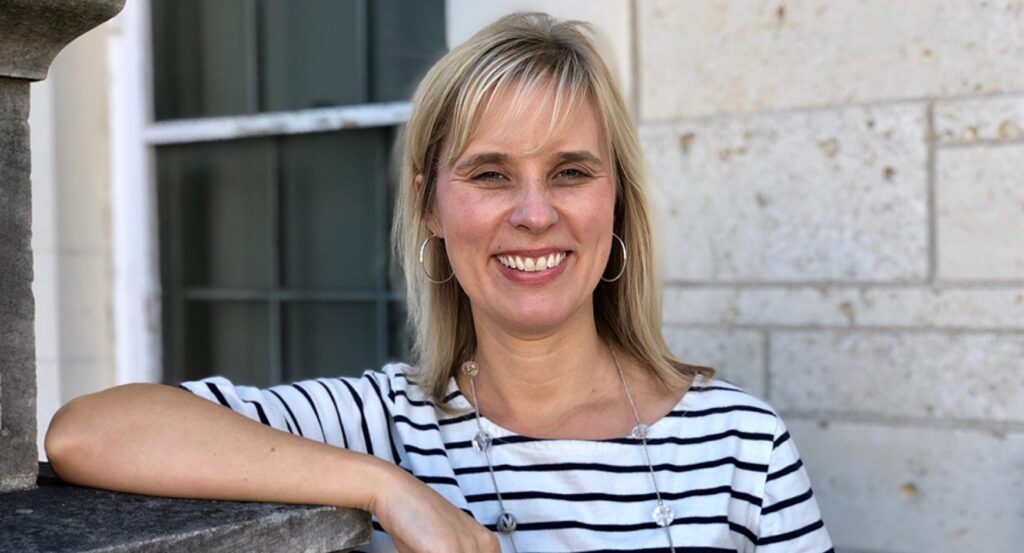 Rachelle Johnsson Chiang is a clinical assistant professor in the Department of Public Health in the College of Natural Sciences. Her profile is part of a series highlighting UT Austin's faculty members who were first-generation college students in celebration of national First-Generation College Celebration Day.
Who/what inspired you to go to college?
I was determined to break the cycle of poverty in my family. I didn't even know what "cycle of poverty" was when I was younger, but I quickly came to understand that higher education was the primary way that I could open up more opportunities and a better future for myself. My parents, particularly my mom, were very honest with me about how many opportunities were not available to them because they did not have a college degree, and how they desired something better for my future.
What was it like for you in college as a first-generation student?
My first year was very difficult because I had absolutely no idea what to expect and was fairly ill-prepared for the rigor of the work and the college environment in general. I knew I needed and wanted to go to college, but had never really thought about how college leads to a career, and what I wanted to do as a career. I also had absolutely no idea what college was like, the social scene, the activities, the expectations, the financial aspect, and my parents didn't either. I was completely lost.
I attended Ohio Wesleyan University, a small private liberal arts college in Ohio, thanks to multiple scholarships. My first year, I struggled a great deal emotionally and thought about trying to transfer. I also struggled to relate to many students who were from families with much more financial resources than my own, and felt that perhaps I had ended up in the wrong school.
I gradually found classes I loved and excelled in, professors who knew and cared about me personally, experiences that I would have never been exposed to otherwise, and friends who were incredible partners in the college journey. By the time I graduated, I was a totally different person with a totally different vision of the world and what was possible for me. So much so that my next step after college was the Peace Corps.
Did you have a mentor while you were in college? If so, how did he or she help guide and inspire you.
I can't say that I have had a single mentor. However, I have had a list of people, starting way back in elementary school all the way through to present time, who have seen promise and possibility in me and encouraged me to explore and expand on that. They include:
Mrs. Copus, my 4th grade teacher, who advocated to get me into a gifted program.
In high school, I had parents of a friend take me under their wings – the Reinhardts, the father was a CFO of a local company. Our worlds at the time could not have been more different, but they reached out and continued to extend their friendship and support to me, sometimes in very practical ways, up unto this day.
I had a professor at Ohio Wesleyan, Dr. Akbar Mahdi, for multiple sociology classes who I admired greatly and is a friend to this day. I worked for him as a research assistant, and loved the way he taught. He was tough but kind, intense and inspirational. He told me more times than I could count that I needed to go on to get my masters, and had what it takes to get a Ph.D.
What advice do you have for current first-generation students at UT Austin?
Don't be afraid to reach out for help and support. So much has changed since I attended college, and it is now recognized that first-generation college students have unique challenges.
Don't make the mistake of seeing yourself as an "impostor" at UT Austin – you earned your place here just like everyone else. Be willing to share your experience, as other students can benefit from understanding the experiences and various paths of others.
Take advantage of as many opportunities as you can to learn about different career paths, because if your experience was like mine, your vision of what's possible is by default limited by what you knew growing up.
Reach out to faculty members, TAs, advisors, supervisors and internship coordinators for guidance.
Sometimes people are blessed to have a single mentor, but that's not always the case. Mentorship can come in many forms. Show appreciation for time that mentors spend with you. In general, I've found that people are very generous with their time when they feel that it is valued and appreciated.