New Programs, Services, and Celebrations
Ensuring UT Austin's students have the opportunity to complete a world-class education within four years is an essential part of the university's commitment to serve society and the people of Texas. Since it began targeted efforts in 2013, the institution has implemented a range of student-centered, forward-thinking programs to foster timely graduation and support student success. As a result, UT Austin's Class of 2018 set a record for the university's four-year graduation rate at 69.8% – up from 52% in 2012.
In its role to coordinate and lead campus-wide student success efforts, the Student Success Initiatives team partners with the colleges and schools across campus to continue to enhance student outcomes. Highlighted below are some of the new success programs, services, and celebrations that have been implemented over the past year. They are designed to provide even more support to students and further the university's efforts to ensure that all students have the ability and opportunity to graduate in four years.
Sharing Knowledge at the Student Success Symposium
In January 2019, UT Austin held its inaugural Student Success Symposium, hosted by the Student Success Initiatives team. The symposium launched with the objective of providing a platform for the sharing of best practices and collaboration across campus in order to support enhanced efforts to increase university four- and six-year graduation rates.
Colleagues from across campus — including deans, associate deans, academic advisors, and student success program staff in UT Austin's colleges and schools — convened to celebrate recent graduation rate increases, learn about new initiatives and to share best practices. Guests also included student success professionals from Texas A&M University.
Breakout sessions included an introduction to new research about why students leave UT Austin, identification of student perceptions of barriers to success, and utilizing technology in advising. The symposium also highlighted new university student success initiatives – such as the Leavers Project and completion grants/scholarships.
Due to the success of the symposium and positive feedback from participants, the Student Success Symposium will be held every fall and spring semester.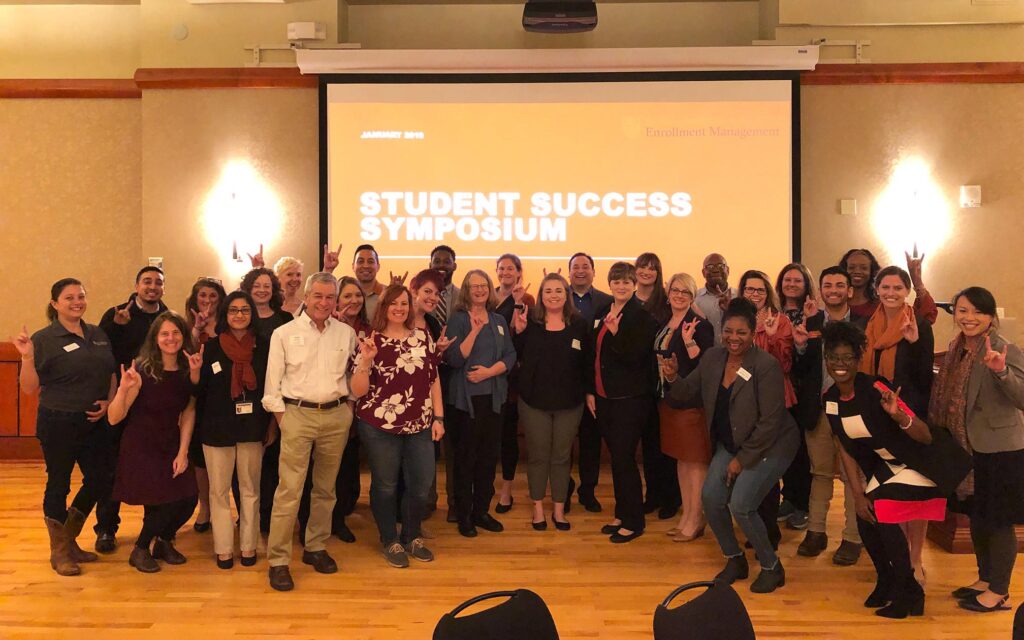 Understanding Why Students Leave – The Leavers Project
While UT Austin has had great success improving four-year graduation rates, it is just as important to understand why some students leave UT, and what the university may be able to do to support these students in completing their degrees.
The Leavers Pilot Project is a new pilot initiative to gather information and data from students who left UT Austin over the last few years. Qualitative interviews with students who left have begun, and will continue through June 2019. The goal is to learn more about their personal experiences and identify trends appearing in the data. With the idea that the university can better identify students who need help before they leave, information gathered from this pilot will assist the university in identifying and designing strategic interventions to either prevent these students from leaving, or to provide informed guidance for the student on options for degree completion. The long-term vision of this effort is to decrease the number of stop-outs from the university, and enhance the number of returners who reenroll at the university and complete their degree.
Getting to the Finish Line – Completion Grants
Completion grants are microgrants that were introduced in 2017 to help students reach the four-year graduation finish line – for example, providing support to finish a summer class and graduate in August.
These grants have been given to students within a year of graduation. The grants have been so successful that the university is committing additional funds for completion grants that can support students even earlier in their progress. Student Success Initiatives works in conjunction with the Office of Scholarships and Financial Aid to administer these grants. Students may self-identify for consideration, be nominated by their advisor, or are identified by bars on their accounts.
The purpose of the completion grants is to provide critical, timely support for students with the highest financial need to get them to graduation. These microgrants have shown incredible promise in supporting students to reach graduation – so much so that Enrollment Management is partnering with generous outside donors to fund this critical student success resource.
Graduation Help Desk
The Graduation Help Desk works with students, faculty, and advisors to resolve roadblocks to graduation, and supports the completion grants initiative. To provide easy access to key enrollment information, ensure quick referrals related to financial aid and registration and ensure close collaboration with the Texas One Stop for Enrollment Services, the Graduation Help Desk recently moved to the Main Building, Room 7. The physical location of the Graduation Help Desk across from the Texas One Stop will make it easy for students to get answers to their important questions, support timely graduation, and enhance the ways in which student needs are addressed.
Expanding Support For First-Generation Students
More than 22% of UT Austin undergraduate students are first-generation college students. First generation student numbers are significant at UT Austin, especially when considering the numbers of undergraduate, graduate, and professional school first generation Longhorns.
In the spring of 2018, with executive sponsorship from Provost Maurie McInnis, Vice President for Student Affairs and Dean of Students Soncia Reagins-Lilly, and Vice President for Diversity and Community Engagement Leonard N. Moore, the university initiated a charge to begin a First-Generation Commitment Working Group. The working group includes students, faculty and staff members from units across campus. It seeks to identify ways to increase support for first-generation Longhorns campus wide, and is co-chaired by Student Success Initiatives Executive Director Cassandre Alvarado and Director of New Student Services Celena Mondie-Milner.
In addition to highlighting current services and resources for first generation students, several new cross-campus initiatives, enhanced by faculty and staff collaborations and participation, have been developed in support and celebration of our first-generation Longhorns.
New Programming During Summer Orientations
In Summer 2018, the working group partnered with New Student Services and Texas Parents, both of which are part of the Division of Student Affairs, to incorporate concurrent sessions for families of first-generation college students during Family Orientation. The 45-minute session welcomed 330 family members of first-generation students to campus, provided information on resources available to their students and answered questions about student life at UT Austin. These sessions will continue to be available at Family Orientation moving forward.
This summer, the First-Generation Student Welcome has been created for students during Freshman and Transfer Orientations. Orientation advisors will lead a panel discussion, sharing personal stories, advice and resources. The goal is to create an environment for new students to build relationships and community with fellow first-generation Longhorns who can relate.
First-generation College Celebration Day
Annually, first-generation students are honored as part of the national First-Generation College Celebration Day. On November 8, 2018 students, faculty, staff and alumni who identify as first-generation college students were invited to a celebratory come-and-go reception in the Main Building. Guests had the opportunity to write a letter to one of their supporters, record a video testimonial about what being a first-generation college student means to them, have a professional portrait taken, enjoy a photo booth, meet and greet the event's executive sponsors and win prizes from campus partners like the Texas Exes. The celebration concluded with a group photo on the steps of the Main building.
First-generation Longhorn Graduation Ceremony
During the first event of its kind at UT Austin, first-generation graduates were celebrated at a ceremony on May 22, 2019, led by students, and coordinated by the university's Multicultural Center for Academic Excellence. Approximately 140 students participated in the event, which was attended by families and friends of the graduates, staff members and university leadership.
The inaugural ceremony was supported and produced by several units across campus, including staff members from the Division of Diversity and Community Engagement, Office of the Executive Vice President and Provost, Office of the Vice President for Student Affairs, and the Multicultural Engagement Center.
Dr. Monique Pikus, associate director for the College of Liberal Arts Honors Program, was the keynote speaker at the ceremony, and special guest Carmel Fenves, first lady of UT Austin, presented the graduates with their stoles.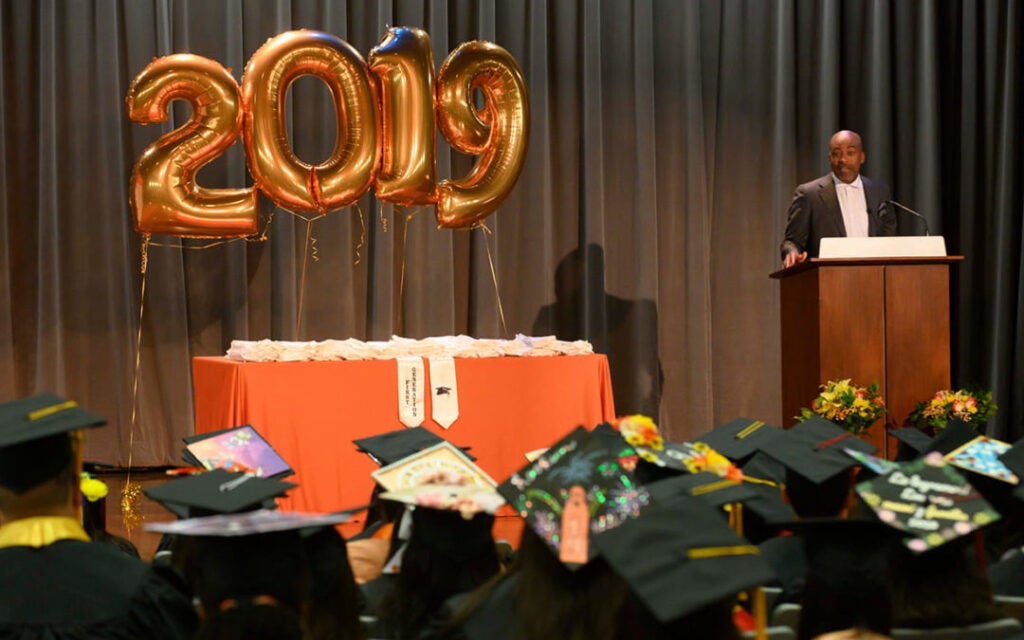 First Forward Institution
As a result of the many efforts to support the university's first-generation students, the National Association of Student Personnel Administrators' (NASPA) Center for First-generation Student Success has recognized UT Austin as a member of its inaugural cohort of First Forward Institutions, universities committed to improving experiences and advancing outcomes of first-generation college students. Through participation as a First Forward campus, UT Austin will join an elite community of professionals prepared to share evidence-based practices and resources, troubleshoot challenges, generate knowledge, and continue to advance the success of first-generation students across the United States.
Looking Forward – 70 For All
The next big step in four-year graduation efforts will center around 70 for All – ensuring that every single Longhorn who steps onto campus has the access and support they need to thrive and finish their degree in four years.
While incredible progress has been made in four-year graduation rates – reaching nearly 70% – a gap persists for some student populations. The goal is to continue efforts that have started to close that gap, and investigate new ways to best support these student populations.
A working group will convene this summer to examine these questions, provide recommendations for next steps, and help to develop messaging to introduce and engage campus partners in 70 for All.
UT Austin has made incredible strides in enhancing timely graduation, and none of these achievements would be possible without extraordinary collaboration from campus partners and feedback from students. The Student Success Initiatives team looks forward to continuing coordination of campus efforts to reach and support every undergraduate student as we work toward enhancing timely graduation for all students.