Council for Racial and Ethnic Equity and Diversity (CREED)
Background
Faculty diversity is critical to fostering a campus environment that reflects the needs and perspectives of our society, and UT Austin is focused on the recruitment, inclusion, and retention of faculty members from underrepresented groups. To address and improve faculty diversity at UT Austin, a partnership between the Office of the Executive Vice President and Provost and the Division of Diversity and Community Engagement began in 2014. The faculty recruitment, retention, and mentoring design team, composed of faculty members and administrators, was formed to discuss the creation, mission and membership of a formal faculty diversity council.
The purpose of the council is to advance faculty diversity by working to remove barriers, ensure fairness in university policies and practices, and to facilitate an inclusive climate of advancement and growth for all faculty. In the spring of 2015, the design team put forth a proposal to the provost, which was approved, to form the Council for Racial and Ethnic Equity and Diversity (CREED).
Current Work
CREED began work in the fall of 2015 to fulfill its mission to advise the provost on best practices in recruiting, retaining, and advancing faculty members who are racially, ethnically, gender, or in other ways diverse. CREED also works in collaboration with colleges and departments to develop initiatives and programs to improve the campus climate for diverse faculty. CREED along with the vice provost for diversity monitors progress through data collection and analysis from UT Austin and peer institutions.
For the 2020-21 and 2019-20 academic years, CREED has focused on issues related to faculty diversity with regards to:
Archiving/Accountability
Associate Deans for Equity
Equity-based Hiring Practices
Mentoring
Retention Strategies
For the 2018-19 academic year, CREED focused on the following issues related to Latinx faculty:
Faculty Numbers/Compensation
Leadership
Chairs/Professorships
Graduate Students
HSI Status
Service/Community Engagement
Teaching
---
2020-21 CREED Membership
Executive Coordination
Edmund T. Gordon, Office of the Executive Vice President and Provost
Co-chairs
Deborah Parra-Medina, College of Liberal Arts
Rich Reddick, College of Education
Members
Jacqueline Angel, LBJ School of Public Affairs
Jakki Bailey, School of Information
Esther Calzada, Steve Hicks School of Social Work
Charles Carson, College of Fine Arts
Michael Clement, McCombs School of Business
Kevin Cokley, College of Liberal Arts
Raissa Ferron, Cockrell School of Engineering
Shalene Jha, College of Natural Sciences
Sam Moore, Jackson School of Geosciences
David Quintanilla, McCombs School of Business
Rene Salazar, Dell Medical School
Danica Sumpter, School of Nursing
Larry Speck, School of Architecture
Jordan Steiker, School of Law;
Skyller Walkes, College of Pharmacy
Members-at-large
Courtney Byrd, Moody College of Communication
Eddie Chambers, College of Fine Arts
Caroline Faria, College of Liberal Arts
Liliana Garces, College of Education
John Morán González, College of Liberal Arts
Brad Love, Moody College of Communication
Leticia Marteleto, College of Liberal Arts
Loriene Roy, School of Information
Eric Tang, College of Liberal Arts
Ex Officio Members
Caroline Bartel, Faculty Ombudsperson
Tasha Beretvas, Office of the Executive Vice President and Provost
Marquita Booker, Office for Inclusion and Equity
Anthony Brown, Faculty Council
James Cox, Faculty Welfare Committee, Faculty Council
Anagha Kikkeri, Student Government
Hadiza Mohammed, Graduate Student Assembly
Christen Smith, Center for Women's and Gender Studies
Mark J. T. Smith, Graduate School
Pauline Strong, Committee of Counsel on Academic Freedom and Responsibility, Faculty Council
Betty Jeanne Taylor, Division of Diversity and Community Engagement
Del Watson, Office of the Executive Vice President and Provost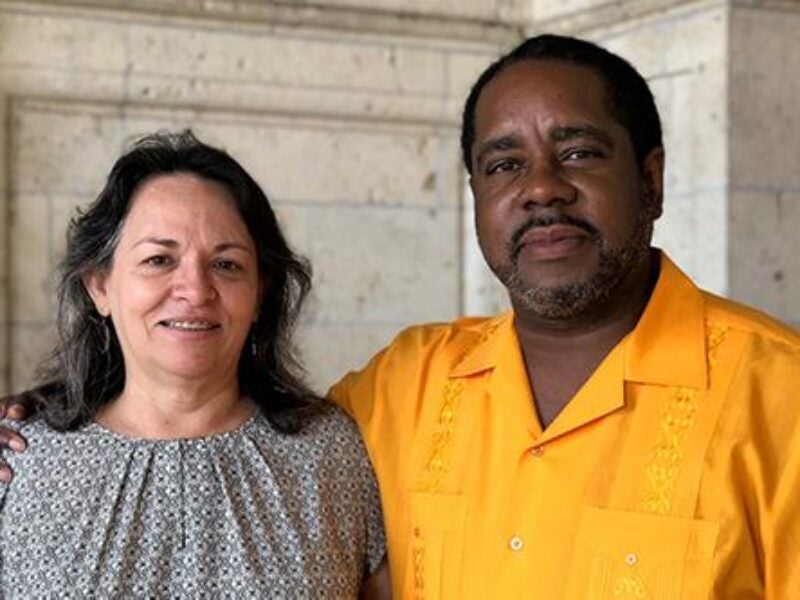 2020-21 CREED Co-chairs
Left to right: Deborah Parra-Medina & Rich Reddick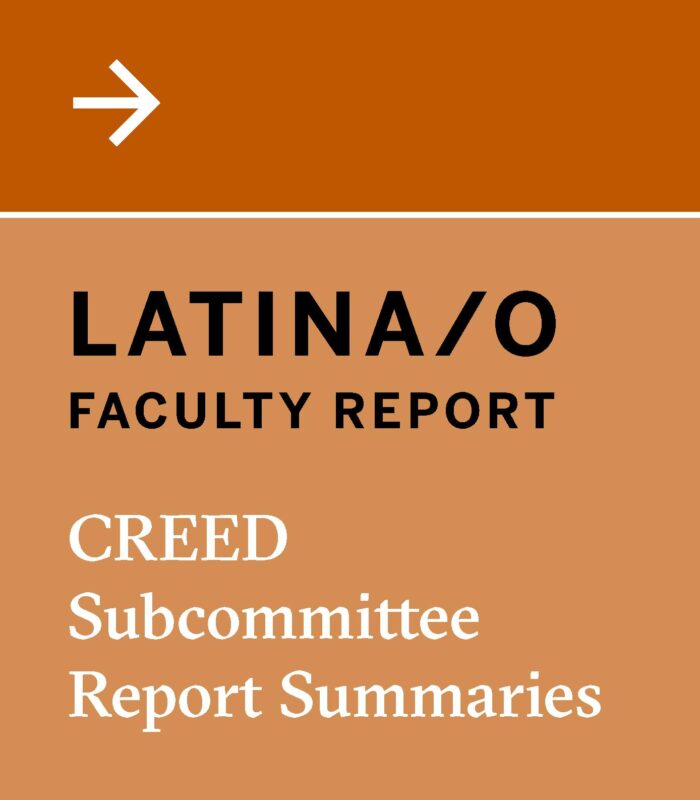 CREED Latina/o Faculty Report
Report on the following issues related to Latina/o faculty: numbers/ compensation, chairs/professorships, leadership, teaching awards, service/community engagement, graduate students and Hispanic-serving institution status.
View & Download Report
Campus Resources
A list of campus-wide formal and informal resources available to support faculty members throughout their careers at UT Austin.
View Campus Faculty Resources
Update on Faculty Equity Initiatives
November 15, 2019 – An overview of faculty equity efforts currently underway, as well as some new initiatives intended to pilot new approaches.
Read more