University Faculty Gender Equity Council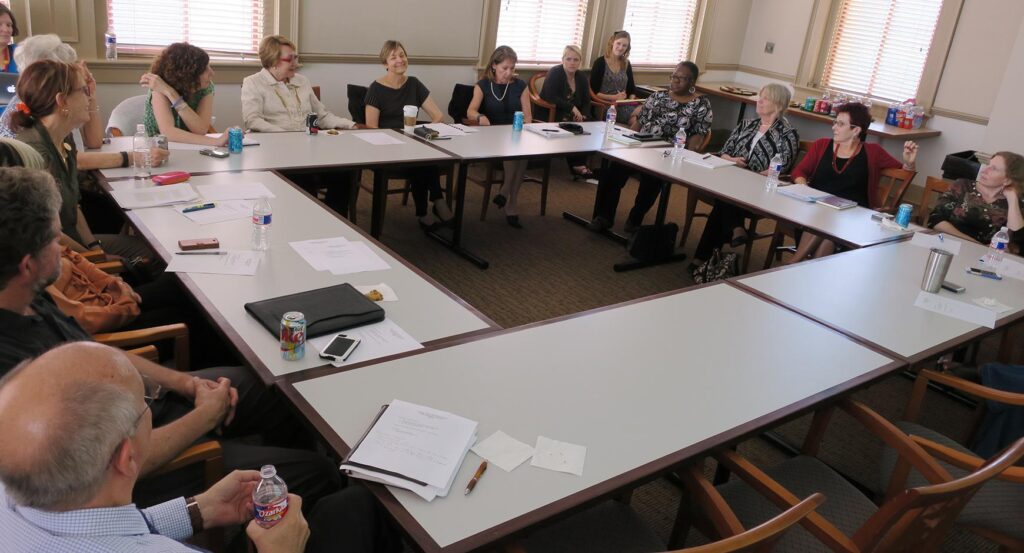 Current Work
The UFGEC continues to fulfill its mission to advise the executive vice president and provost through collection and analysis of data and through recommendation of best practices for achieving equity and recruiting, retaining, and advancing women faculty members.
The UFGEC along with CREED and Q+AEI, the Senior Vice Provost for Faculty Affairs and the Vice Provost for Diversity monitor progress through annual data collection and analysis from UT Austin and peer institutions.
For the 2019-20 academic year, the UFGEC focused on issues related to women faculty equity via the following subcommittees:
Data and COACHE – Chair, Shardha Jogee
This subcommittee helped with the 2020 COACHE survey by developing relevant questions and providing input on how to communicate, request, and encourage participation, and how to address confidentiality concerns. The committee also provided questions to the Provost office to help guide their data collection on endowments from different colleges, with the long-term goal of exploring potential gender differences among endowment holders and evaluating the processes via which endowments are allocated across the University. The committee also provided best practices on the allocation of endowments, and on the promotion and tenure process. The Chair served on the Misconduct Working Group set up by President Fenves to explore how UT Austin can better address sexual misconduct, and shared recommendations from the UFGEC's work in 2018-19 on Title IX issues. Many of these recommendations (e.g., better communication of findings of sexual misconduct to stakeholders, stronger disciplinary actions, and improved streamlined resources) have been adopted by UT.
Diversity and Inclusion and Title IX – Chair, Shelley Payne
This subcommittee considered diversity and inclusion statements, including how to prepare and evaluate the statements as well as how to promote wider adoption throughout the University for candidates, merit review, and promotions. This subcommittee also continued the work that has already been done to understand current practices and develop best practices for Title IX in order to foster an inclusive working and learning environment.
Mentoring, Sponsorships, and Awards – Chair, Liz Jacobs
This subcommittee analyzed how to implement best practices for faculty mentoring and sponsorship. The committee focused on mentoring and sponsorship at all levels of faculty development. This subcommittee also considered best practices in decisions on endowments, research and teaching awards.
For the 2020-21 academic year, the UFGEC is focusing on issues related to the impact of COVID-19 on productivity measures used by the University for evaluation of promotion and tenure, and identifying potential long term impacts of COVID-19 on productivity, promotion, and gender equity.
2020-21 UFGEC Membership
Executive Coordination
Edmund T. Gordon, Office of the Executive Vice President and Provost
Co-chairs
Lynn Katz, Cockrell School of Engineering
Laura Starks, Red McCombs School of Business
Members
Amelia Acker, School of Information
Megan Alrutz, College of Fine Arts
Germine Awad, College of Education
Jane Dimmit Champion, School of Nursing
Julia Clarke, Jackson School of Geosciences&nbsp
Catherine Cubbin, Steve Hicks School of Social Work
Jennifer Glass, College of Liberal Arts
Shardha Jogee, College of Natural Sciences
Lee Ann Kahlor, Moody College of Communication
Smilja Milovanovic-Bertram, School of Architecture
Victoria Rodriguez, LBJ School of Public Affairs
Elizabeth Sepper, School of Law
Holli Temple, College of Pharmacy
Yvette Williams-Brown, Dell Medical School
Members-at-large
Shuping Chen, Red McCombs School of Business
Minette Drumwright, Moody College of Communication
Fernanda Leite, Cockrell School of Engineering
Jennifer Maynard, Cockrell School of Engineering
Elizabeth Mueller, School of Architecture
Shelley Payne, College of Natural Sciences
Christen Smith, College of Liberal Arts
Ex Officio Members
Audrey Balliette, Student Government
Caroline Bartel, Faculty Ombudsperson
Thaïs Bass-Moore, Division of Diversity and Community Engagement
Tasha Beretvas, Office of the Executive Vice President and Provost
Marquita Booker, Office for Inclusion and Equity
Anthony Brown, Faculty Council
Norma Fowler, Faculty Welfare Committee, Faculty Council
Sarah Heise, Graduate Student Agency, Graduate Student Assembly
Mark J. T. Smith, Graduate School
Pauline Strong, Committee of Counsel on Academic Freedom and Responsibility, Faculty Council
Del Watson, Office of the Executive Vice President and Provost