Council for LGBTQ+ Access, Equity, and Inclusion (Q+AEI)
Background
An inclusive campus climate that foments excellence and one where gender and sexual differences are safe and welcome is critical to the success and welfare of all faculty and to the optimal functioning of the university. A preliminary working group of LGBTQ+ faculty members and allies met in Fall 2018 to assess the need for the formation of an LGBTQ+ faculty council. It was determined that, in addition to the President's Advisory Committee on LGBTQ+ Initiatives, that a council comprised of LGBTQ+ faculty members could provide a specific and unique faculty perspective and further enhance the goals of equity, inclusion, and diversity at the university.
The purpose of Q+AEI is to address issues of access, equity, and inclusion among faculty at UT Austin based on gender identity and/or sexual orientation. Q+AEI supports the development of programs to improve the campus-wide climate and institutional reputation for equity relating to gender and sexuality, including queer people of color. In Spring of 2019, the vice provost for diversity put forth a proposal to the provost, which was approved, to form the Council for LGBTQ+ Access, Equity, and Inclusion (Q+AEI). Q+AEI joins with the Council for Racial and Ethnic Equity and Diversity and the Gender Equity Council in seeking to remove barriers, ensure fairness in university policies and practices, and facilitate an inclusive climate of advancement and growth for all faculty.
---
Current Work
Q+AEI held its inaugural meeting in May 2019. Q+AEI will fulfill its mission to advise the provost on best practices in addressing issues of access, equity, and inclusion for UT Austin LGBTQ+ faculty, and issues related to recruiting, retaining and advancing faculty who contribute to gender and sexual diversity on campus.
For the 2019-20 and 2020-21 academic years, Q+AEi focused on the following:
Building and strengthening a network of LGBTQ+ faculty at UT
Identifying best practices for inclusive universities
Assessing the campus climate for LGBTQ+ faculty
---
2021-22 Q+AEI Membership
Executive Coordination
Edmund T. Gordon, Office of the Executive Vice President and Provost
Co-chairs
Lisa Moore, College of Liberal Arts
Stephen Russell, College of Natural Sciences
Members
Amelia Acker, School of Information
Paul Bonin-Rodriguez, College of Fine Arts
Clint Dawson, Cockrell School of Engineering
Kevin Haynes, School of Law
Ashley Matheny, Jackson School of Geosciences
Chris McCarthy, College of Education
Stephen Phelps, College of Natural Sciences
Nathan Pope, College of Pharmacy
PJ Raval, Moody College of Communication
Donna Rolin, School of Nursing
Phillip Schnarrs, Dell Medical School
Sarah Sloan, Steve Hicks School of Social Work
Victoria DeFrancesco Soto, LBJ School of Public Affairs
Stephen Walls, Red McCombs School of Business
Members-at-large
Luis Cárcamo-Huechante, College of Liberal Arts
Karma Chavez, College of Liberal Arts
Laura Gutiérrez, College of Liberal Arts
Neville Hoad, College of Liberal Arts
Grayson Hunt, LGBTQ Studies & Office of the Executive Vice President and Provost
Karen Landolt, Red McCombs School of Business
Aliza Norwood, Dell Medical School
Jorge Pérez, College of Liberal Arts
Tanya Voss, Steve Hicks School of Social Work 
Ex Officio Members
Tasha Beretvas, Office of the Executive Vice President and Provost
Marquita Booker, Office for Inclusion and Equity
Andrea Gore, Committee of Counsel on Academic Freedom and Responsibility, Faculty Council
Isaac James, Student Government
Domino Perez, Faculty Council
Robert Prentice, Faculty Welfare Committee, Faculty Council
Christen Smith, Center for Women's and Gender Studies
Mark J. T. Smith, Graduate School
Helen Wormington, Division of Diversity and Community Engagement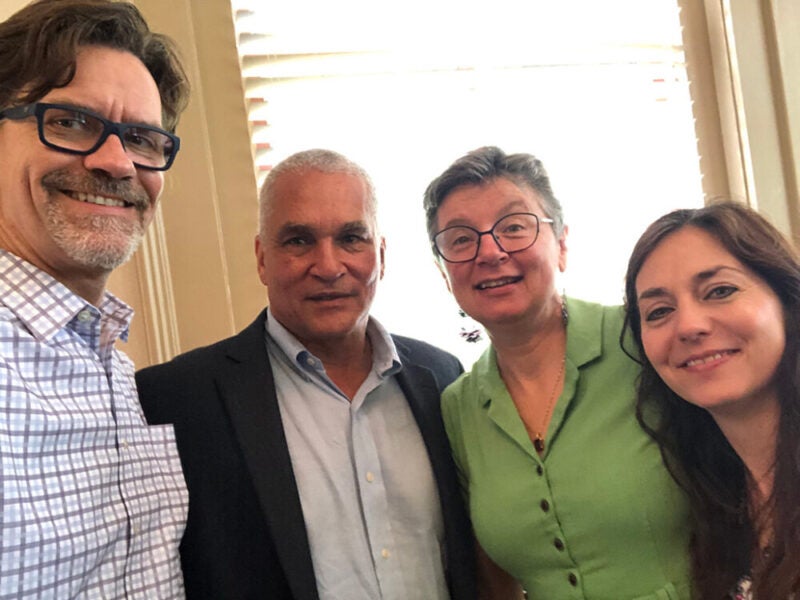 2021-22 Q+AEI CO-CHAIRS
Left to right: Council Co-chair Stephen Russell, Edmund T. Gordon, Council Co-chair Lisa Moore, Elizabeth Donihoo