Council for LGBTQ+ Access, Equity, and Inclusion (Q+AEI)
Our Mission
The University of Texas is one of few large institutions of higher education in the nation that has a Provost's Council charged with LGBTQ+ faculty affairs. The Council for LGBTQ+ Access, Equity and Inclusion (Q+AEI) was established in 2019 to serve in an advisory capacity to the Executive Vice President and Provost. Its charge is to work in collaboration with colleges, schools, and academic units to support the development of programs that improve campus-wide climate. We aim to monitor progress and sustain successes through inclusive data collection and critical benchmarking, in order to develop actionable policies for academic leaders to implement. The Council strives to include representatives from each college and school, several at-large members (faculty who have distinctive experience, expertise, or roles related to LGBTQ+ populations), and ex-officio members.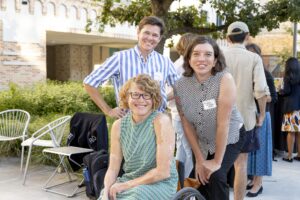 (clockwise from seated) Alison Kafer, Grayson Hunt, Amelia Zique
(l to r) Luis Cárcamo-Huechante, Lisa Moore (Chair), Neville Hoad, Paul Bonin-Rodriguez, Kevin Haynes
---
Current Work
Q+AEI advises the Provost on best practices in addressing issues of access, equity, and inclusion for UT Austin LGBTQ+ faculty as well as issues related to recruiting, retaining and advancing faculty who contribute to gender and sexual diversity on campus.
Current Q+ AEI subcommittees are the following:
> Climate and Data, charged with identifying and interpreting what data may exist at UT that is germane to our purposes, as well as creating new methods of gathering information about LGBTQ+ faculty, with sensitivity to the sometimes competing claims of representation and safety;
> Community and Mentoring, charged with connecting LGBTQ+ faculty across campus in ways conducive to their thriving and professional development;
>
Governance,
charged with ensuring continuous leadership through identifying faculty members to serve as subcommittee chairs and as Chair-Elect, Chair, and Immediate Past Chair, with special attention to the unique challenges of diversity, equity and inclusion service in the academy;
> Best Practices, charged with researching and reporting on LGBTQ+ faculty affairs activities at our peer institutions, and cultivating a mutually sustaining network of those doing this work;
>
Communications
, charged with creating and disseminating materials to publicize our work, from short news updates to peer-reviewed journal articles.
---
Successful Initiatives
The Council's advocacy is empowered by support from the Vice Provost for Faculty Diversity and the Executive Vice President and Provost. Along with our sibling Equity Councils and other allied organizations and academic units, Q+AEI has supported a number of successful initiatives, including the following: the renovation of 45 campus restrooms that are now gender inclusive; the option to correct names on diplomas, transcripts, and other official documents; inclusive on-campus housing options for students; the departmentalization of Women's and Gender Studies; the publication of a Best Practice Report, surveying peer institutions across the country and synthesizing those findings to recommend strategies for championing gender and sexual orientation diversity on campus; as well as the first ever official LGBTQ+ faculty welcome event in fall 2022, fostering new connection and launching our mentorship program.
In spring 2020, UT Austin participated in the Faculty Job Satisfaction Survey. This report highlights the campus climate experiences of self-identified LGBT faculty.
Find the final report here.
---
2022-23 Q+AEI Membership
Executive Coordination
Lydia M. Contreras, Office of the Executive Vice President and Provost
Leadership
Lisa Moore, Chair, College of Liberal Arts
Sarah Sloan, Chair-Elect, Steve Hicks School of Social Work
Stephen Russell, Immediate Past Chair, College of Natural Sciences

Members
Amelia Acker, School of Information
Paul Bonin-Rodriguez, College of Fine Arts
Clint Dawson, Cockrell School of Engineering
Kevin Haynes, School of Law
Ashley Matheny, Jackson School of Geosciences
Chris McCarthy, College of Education
Steven Phelps, College of Natural Sciences
Nathan Pope, College of Pharmacy
PJ Raval, Moody College of Communication
Donna Rolin, School of Nursing
Phillip Schnarrs, Dell Medical School
Estevan Delgado, LBJ School of Public Affairs
Stephen Walls, Red McCombs School of Business
Members-at-large
Luis Cárcamo-Huechante, College of Liberal Arts
Karma Chavez, College of Liberal Arts
E. Ciszek, College of Liberal Arts
Neville Hoad, College of Liberal Arts
Grayson Hunt, LGBTQ Studies & Office of the Executive Vice President and Provost
Karen Landolt, Red McCombs School of Business
Aliza Norwood, Dell Medical School
Jorge Pérez, College of Liberal Arts
Tanya Voss, Steve Hicks School of Social Work
Ex Officio Members
Tasha Beretvas, Office of the Executive Vice President and Provost
Marquita Booker, Office for Inclusion and Equity
Stephen Vladeck, Committee of Counsel on Academic Freedom and Responsibility, Faculty Council
Jen Moon, Faculty Council
Isaac James, Student Government
Robert Prentice, Faculty Welfare Committee, Faculty Council
Christen Smith, Center for Women's and Gender Studies
Mark J. T. Smith, Graduate School
Share your LGBTQ+ UT Story
We are collecting community stories - experiences of being LGBTQ+ at UT. Whether stories are celebratory or challenging, we value all input.
Share your story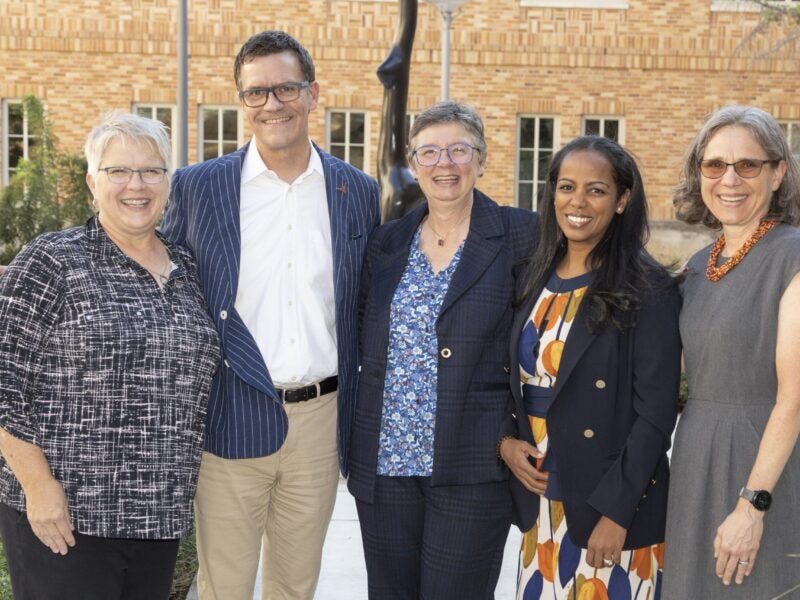 2022-23 Q+AEI Chairs
(l to r) Sarah Sloan (Chair-Elect), Stephen Russell (Immediate Past Chair), Lisa Moore (Chair), Vice Provost Lydia Contreras, Provost Sharon Wood